Bountiful Utah Auto Services
Discount Coupon on Automotive Repairs
Why Affinity Auto Service in Bountiful
Affinity auto repair shop is conveniently located in Bountiful, Utah adjacent to I15. Our quality ASE (Automotive Service Excellence) certified mechanics at Affinity Auto Service employ today's latest automotive technology and are equipped to handle all major and minor auto repair services on foreign and domestic vehicles. We insist on doing things the right way. We're 100% committed to making sure you're 100% satisfied. That's why it's part of our culture to make sure you're in the most friendly, comfortable, and honest environment possible. Check out our current mechanic discounts.  Below are some of the many auto repair services that we offer: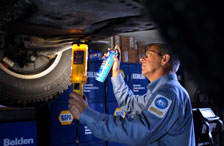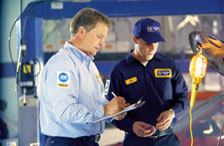 Auto Repair and Services at our Bountiful, Utah Location
SHUTTLE SERVICE
LOANER CARS
---
Our Difference – Affinity Auto Service Repair Shop in Bountiful, Utah?
We are one of the leading auto repair shops and mechanics in the Bountiful, UT, Farmington, Woods Cross,  North Salt Lake, West Bountiful, Centerville, Kaysville, Salt Lake City, Rose Park, Layton and surrounding areas. All automotive repair and mechanic services at Affinity Auto are performed by highly qualified ASE certified mechanics. Our mechanic shop servicing Bountiful works on numerous vehicles through the use of quality truck and car repair equipment. Whether you drive a passenger car, medium sized truck, mini-van, Hybrid or SUV, our mechanics guarantee that your vehicle will be performing at its best before leaving one of our service bays. Our auto repair shop is capable of servicing a variety of makes and models. So if you're looking for quality auto repair services in Bountiful, UT, then schedule an auto repair appointment online with us today. Our superior standards show that our mechanics always have the best interests of our customers in mind. Looking for a one-stop automotive repair shop near Bountiful, UT? Look no further than us, and allow our mechanics to give you a reliable estimate of any automotive repair issue you might be facing.
Our number one goal has always been customer satisfaction in Bountiful, UT.  Our car repair shop has a long standing reputation for quality repairs. We pride ourselves on our customer service skills and the fact that all car repair services performed by our mechanics are done right the first time. Whether you need routine auto maintenance services or necessary car repairs, contact us online to schedule your next auto service appointment at our auto repair shop today.
Communities Served near Bountiful, Utah:
Bountiful UT | Farmington UT | North Salt Lake UT | West Bountiful UT | Salt Lake City UT | Centerville UT | Woods Cross UT | Kaysville UT | Rose Park UT | Layton Ut | Utah
Bountiful Repair Services Include:
Belts & Hoses | Brakes | Inspection | Lube, Oil & Filter Service | Wheel Alignment | Exhaust Systems | Heating & Air Conditioning | Cooling System | Tires | Wheels | Axle, CV Joint, Driveshaft Repair | Diesel Engine Systems | Differential Repair | Electrical and Electronic Systems | Electrical: Starting, Charging & Batteries | Engine: Diagnostics and Performance | Four Wheel Drive Systems  | Glass Services | Preventive Maintenance | Steering and Suspension | Tire Pressure Monitoring System (TPMS) | Transmission | Hybrid Service & Repair
CarMD – Most Common Repairs
Recently, CarMD Corp. conducted a study and compiled the findings into what they called their Vehicle Health Index. CarMD is a device that plugs into your vehicle and then downloads vehicle repair data, letting you know what's wrong with your car. Among the findings of the study were the top five most common repairs you can avoid through proper maintenance.
1. Engine Misfire
Each spark-plug on your car is electrically timed to fire at precise timing to deliver power from the engine. If the spark fires at the incorrect time or not at all, it is considered a misfire. Misfiring of a cylinder can happen for numerous reasons. Here are the most common causes and related costs of the misfire condition:
• Carbon or oil fouled sparkplugs:  Bear in mind that oil of carbon fouled plugs are the result of a deeper problem with the engine and to get to the bottom of such case will cost more time and money to fix.
• Bad spark-plug wires:
• Bad fuel delivery: fuel delivery problem – bad injectors, cracked intake plenum, new injector driver or flash programming of ECM (Engine Control Module) needed.
• Vacuum leak:
• Mechanical breakdown: Broken valve spring, burnt valve, broken or burned piston or piston ring, blown cylinder head gasket.
What to do? The best way to avoid an engine misfire condition is through following the scheduled maintenance in your manual. Keep your vehicle's engine tuned according to factory specs. Plus, a yearly trouble-code scan by Affinity Auto in Bountiful will uncover any potential problems before they become major faults.
2. Evaporative Emissions Leak and/or Failure
The evaporative emissions system control (EVAP) system is designed to trap gas tank fumes. The system consists of the fuel tank, vapor lines, liquid vapor separator to prevent liquid gasoline from entering the system and the EVAP Canister, which has a purge valve on it. Fumes are trapped inside the canister, which is full of activated carbon. At certain times during engine operation, the canister purge valve opens up letting fresh air into the canister. This in turn forces the trapped gas fumes back into the engine's air intake and thus burned inside the engine.
Should the system develop a leak as a result of corrosion eating the lines or a compromised canister, the system will throw an "EVAP Leak" code in the computer. To fix the problem, one has to find the leak, or faulty component, fix or replace it, and reset the system. The whole process of diagnosis and repair typically runs anywhere from $100 to $700 depending on what's needed.
What do do? To keep EVAP Systems operation properly, always make sure you tightly re-install your gas cap after refueling. In addition, a good rust protection application helps to keep system line corrosion to a minimum. Always tend to lit check engine lights. If you let them go, an EVAP System problem can expand into major repair costs.
3. System Running Too Lean
If a "System Too Lean" code comes up, it's usually due to a vacuum leak, faulty injector driver, bad injector or a software update needed. The performance computer monitors engine operating elements such as coolant and air intake temperatures, amount of airflow into the engine, throttle position, etc. If the problem-code pops up, it's because one of these areas is compromised. The mechanic must scan the system, identify where the malfunction exists and repair it. Typical causes of lean conditions range from a bad vacuum line, faulty sensor, broken engine gasket to a cracked cylinder head, faulty intake plenum, warped throttle body, and too much more to mention here.
What To Do? Regular maintenance and upkeep will avert these type of problems. Always tend to a lit check engine light because we don't want a small problem to snowball. Don't be penny wise and pound foolish when it comes to preventive maintenance.
4. Catalytic Converter Failure
Catalytic Converters fail for two reasons: either because of a leak from rust and corrosion setting in, or internal plugging from excessive carbon buildup or collapsed baffle or catalyst. The catalytic converter is a device that burns up any unburned gas in the engine exhaust, cleaning the tailpipe emissions. Problems crop up when more unburned gas is fed into the catalytic than it can process. For lack of a better term, the catalytic becomes "constipated" or clogged as a result of too much gas being fed into it. The clog takes the form of a "rock" of carbon that forms inside the cat, causing a restriction of exhaust gas flow.
The only way to restore the system to proper operation is to replace the catalytic converter. Now this is where most people stop the repair process. But then the new catalytic comes up with the same problem just a few months later. Why? Because the tech did not get to the bottom of the problem the first time. The reason the catalytic clogged was probably because there was uncontrolled fuel delivery. Make sure your mechanic gets to the root cause of the unchecked fuel delivery before paying the bill and driving away.
What to do? To avoid catalytic converter problems, keep the your engine up to snuff with regular scheduled maintenance tune-ups and system maintenance as per factory recommendations in your manual. It's really the only way to prevent premature failure of the system.
5. Exhaust Gas Recirculation (EGR) System Failure
EGR stands for Exhaust Gas Recirculation. This is an emissions system designed to lower combustion chamber temperatures in order to lower formation of NOx (Oxides of Nitrogen) gas, which contributes to harmful air pollutants.
Because of the system's very nature (feeding exhaust gas), it is highly susceptible to carbon (unburned gas) buildup, plus electronic control problems. EGR Valve complications arise from wear of the valve over time. Typical repairs include valve replacement, sensor or controller replacement, or wiring repair.
Repairs include an EGR tube replacement, to a valve replacement and EGR passage cleaning.  Repair costs vary by year, make and model.
What to do? To keep your EGR system functioning properly, have a professional fuel system cleaning done every 30K miles. This will keep carbon buildup, the EGR systems greatest enemy, at bay. Attend to any check engine lights by call Affinity Auto at 801-292-1331.
Description of Services:
Vehicle Make Serviced
Common Auto Repairs at our Bountiful Utah Location
Oil and Oil Filter Service
Experts recommend changing the oil and oil filter in your vehicle every 3  months or 3,000 miles, which ever is first. It's an essential way to  maximize engine protection. Oil changes at 7,500 miles are usually too  long an interval for most common driving conditions.
Cooling System Service
Flush cooling system, pressure test, check hoses, cap and check connection.
Air Conditioning Service
One of our trained Air Conditioning specialists will inspect your car's  air conditioner, all NC lines, evaporator and compressor for leaks and  wear.
Driveline Service
Remove old worn out gear oil from the front and rear differential and transfer case.
Fuel/Air Induction Cleanup
Using specialized equipment our technicians will quickly and effectively  clean intake manifold, ports, intake valves, and combustion chamber.  Install injector cleaning additive in tank. This service will restore  lost power and performance and will reduce harmful exhaust emissions.
Power Steering Flush
Our technicians use a powerful cleaner to dissolve gum and varnish in  your car's power steering unit. Next, we will flush old, worn-out  contaminated fluid and install fresh new fluid fortified with a special  antioxidant and anti-wear ingredients to prevent expensive mechanical  failure.
Transmission Service
Using the latest in state-of-the-art technology, Affinity Auto will install a safe  and effective cleaner to suspend harmful varnish and sludge from the  transmission valve body, torque converter and lines. Install new  high-tech fluid with conditioners.
List of Manufacturer Models Serviced at Affinity Auto:
| | | |
| --- | --- | --- |
| Acura | Geo | Mini |
| Alfa Romeo | GMC | Mitsubishi |
| Am General | Honda | Nissan |
| American Motors | Hummer | Oldsmobile |
| Aston Martin | Hyundai | Opel |
| Audi | Infiniti | Panoz |
| Austin | International | Passport |
| Avanti | Isuzu | Peugeot |
| Bentley | Jaguar | Plymouth |
| Bertone | Jeep | Pontiac |
| BMW | Jensen | Porsche |
| Buick | Kia | Renault |
| Cadillac | Laforza | Rolls Royce |
| Checker | Lamborghini | Rover |
| Chevrolet | Lancia | Saab |
| Chrysler | Land Rover | Saturn |
| Citroen | Lexus | Shelby |
| Daewoo | Lincoln | Sterling |
| Daihatsu | Lotus | Subaru |
| Delorean | Maserati | Suzuki |
| Dodge | Mazda | Toyota |
| Eagle | Mercedes-Benz | Triumph |
| Ferrari | Mercury | Volkswagen |
| Fiat | Merkur | Volvo |
| Ford | MG | Yugo |
| General Motors | Prius | |